Centralized Knowledge
for
Accounting Firms
Your single source of truth
Karbon is the cornerstone of an accounting business. Data is no longer scattered, all that your team needs is in one cloud-based location.
Know where every job stands, across your entire team.
Karbon brings all tasks, notes, emails and documents relating to a job together, so you have everything you need when you need it.

Look at the big picture and see how things are tracking at-a-glance, or hone in on what's important down to an individual task. Everyone has what they need at their fingertips.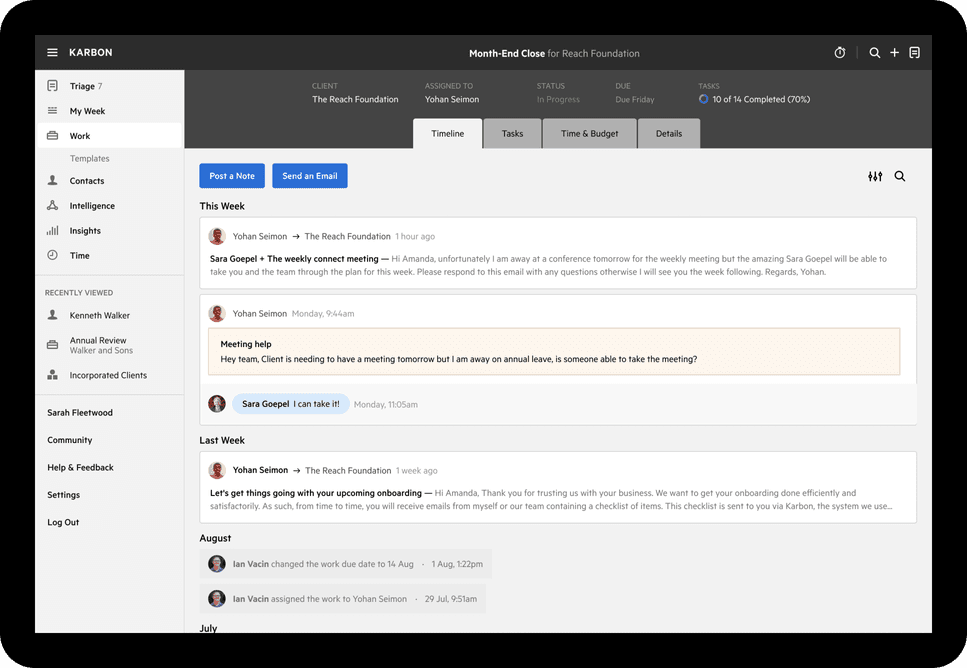 View an automatically compiled record of all communication in the context of your work and clients
Every email, internal note and detail, for each client, is in one shared place for your team. Know who last contacted a client, what was said, and when that was.

When a client calls you can instantly see where things stand. Managing client relationships has never been easier.
Find the information you need instantly.
With Global Search, you can get an instant answer across your entire team. Just search for what you are looking for to get an up-to-date view of everything.

See all the latest emails from anyone, not just what is in your own inbox, view any job and task, or get an update on any client.
Centralized Knowledge Features
Activity TimelinesShared history of emails, notes, tasks and activity relating to any job or client.
ChecklistsWork tasks and sub-tasks ensure everyone knows their own responsibility.
Shared ContactsWork together on clients with all contact details, work and communication in one place.
Global SearchEverything in Karbon is searchable. Find anything across your organization in seconds.
Third-party IntegrationsShare data between Karbon and other systems to keep everything up-to-date.
Kanban BoardView and optimize all of the jobs going on across your team.
InsightsEasy-to-read reports detailing critical output and efficiency metrics.
Document StorageFiles and documents automatically stored and organized against clients and jobs.
Work TemplatesStandardize your common processes and workflows in customizable templates.
Integrated EmailEvery email between your client and anyone on your team, in one single place.
Experience the Karbon effect.
These findings were obtained through Karbon's 2022 Firm Usage Survey.
On average, Karbon saves every employee 16.5 hours each week.
3.2 hours
Saved chasing clients
3.9 hours
Saved managing and completing work and tasks
3.2 hours
Saved reading, actioning and searching for email
4.1 hours
Saved with more efficient team collaboration
2.1 hours
Saved automating low-value admin tasks
18% growth
In firm-wide productivity
Centralized knowledge in Karbon firms
Karbon is our one-stop shop to see everything that is going on within the firm.
Joe Collins
Avalon Accounting
Karbon gives us the power to look at any email address, any response from a client, any job—basically anything, anywhere—and instantly see what's going on.
Timothy Munro
Change Accountants
We now have much more information at our fingertips that we'd never previously documented before. We're getting through jobs more efficiently and providing a much better service to our clients.
Jeff Jobson
Catalyst
Book a demo or start a free trial.
Explore other benefits of Karbon
Team, clients, systems, and data together in one place. Remote or in the office – you're all together, because Karbon firms are connected firms.