Project Management
for
Accounting Firms
Ensure all work is delivered on target
You know where every job stands in Karbon. Align everyone to the same goals, adjust priorities and have confidence that nothing can fall through the cracks.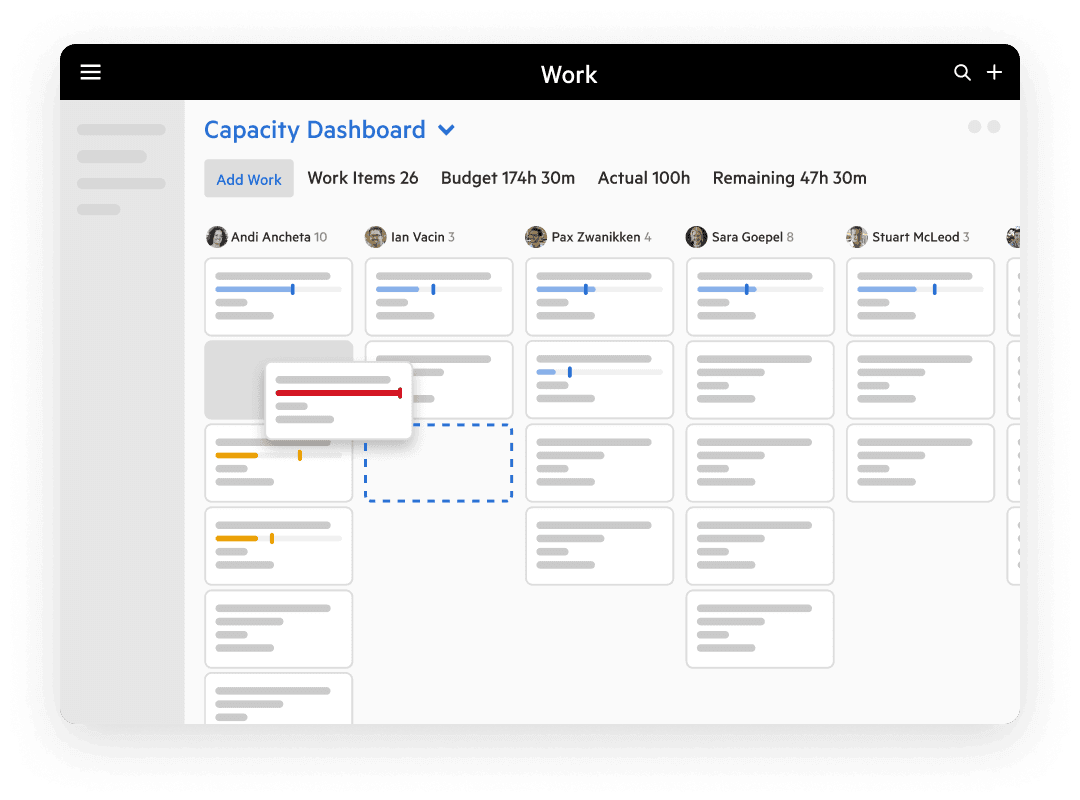 Track job progression, identify bottlenecks and ensure nothing falls through the cracks.
Optimize everyone's workload for a more efficient, productive team. Allocate resources by seeing who has capacity to take on more work, ensuring no one is overburdened.

In one single view you can track the progression of jobs, identify bottlenecks and avoid work falling through the cracks, with complete confidence that you have the full picture.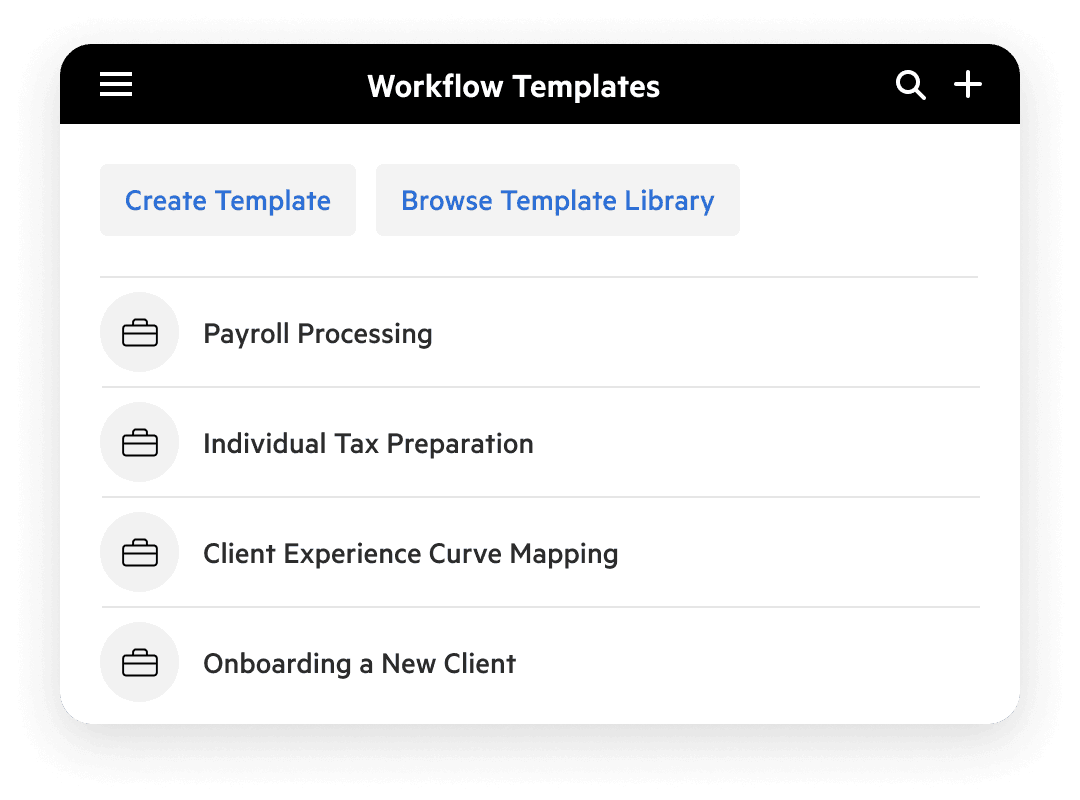 Standardize common processes that can evolve as your team grows.
Work in Karbon is driven by standardized templates, ensuring processes don't break and quality is maintained as your team evolves and your business grows.

Customizable statuses, job roles and work types empower your staff to tailor processes to suit the way your team works, streamlining your workflows like never before.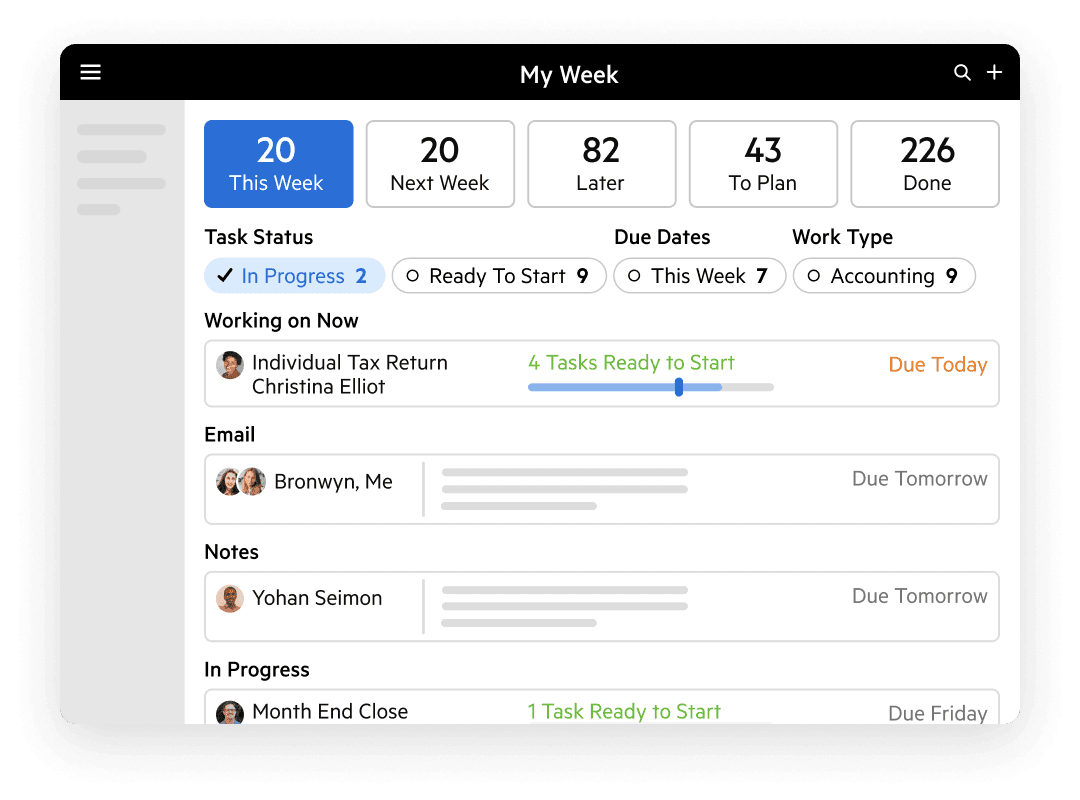 Everyone knows the tasks they need to work on today and what's coming up next.
Karbon organizes work, tasks and email into a manageable action plan for each staff member.

Distractions and noise are filtered to reveal only the work items that matter to each person, what they are responsible for, what is most urgent, and the context they need to plan ahead.
Project Management Features
My Week
Organize your work, tasks and email into a manageable action plan.
Work Templates
Standardize your common processes and workflows in customizable templates.
Document Storage
Files and documents automatically stored and organized against clients and jobs.
Global Search
Everything in Karbon is searchable. Find anything across your organization in seconds.
Activity Timelines
Shared history of emails, notes, tasks and activity relating to any job or client.
Work Scheduler
Set recurring work to repeat on automatic schedules.
Integrated Email
Every email between your client and anyone on your team, in one single place.
Checklists
Work tasks and sub-tasks ensure everyone knows their own responsibility.
Job Estimates
Estimate time and budget for every job to help make better-informed decisions.
Experience the Karbon effect.
These findings were obtained through Karbon's 2022 Firm Usage Survey.
On average, Karbon saves every employee 16.5 hours each week.
3.2 hours
Saved chasing clients
3.9 hours
Saved managing and completing work and tasks
3.2 hours
Saved reading, actioning and searching for email
4.1 hours
Saved with more efficient team collaboration
2.1 hours
Saved automating low-value admin tasks
18% growth
In firm-wide productivity
Project management in Karbon firms
Workflow management using Karbon's Kanban system just makes it so easy to see what needs to be done today, tomorrow, and in the future.
Randall Orser
Number Crunchers Accounting
Karbon helps us plan better, deliver work better, communicate better, see where anything is at, and collaborate to get things done.
Timothy Munro
Change Accountants
There is a real peace of mind that comes with streamlining work in Karbon. We know it's all there, and we don't need to worry about it until it's time to do it.
Melissa Stout
mAccounting
Book a demo or start a free trial.
Explore other benefits of Karbon
Team, clients, systems, and data together in one place. Remote or in the office—you're all together, because Karbon firms are connected firms.