Practice Management Software
for
Accounting Firms
Compare Karbon and TaxDome
Karbon is the only cloud-native practice management software that gives your accounting firm the collaboration, automation, connectivity, and insights you need to grow.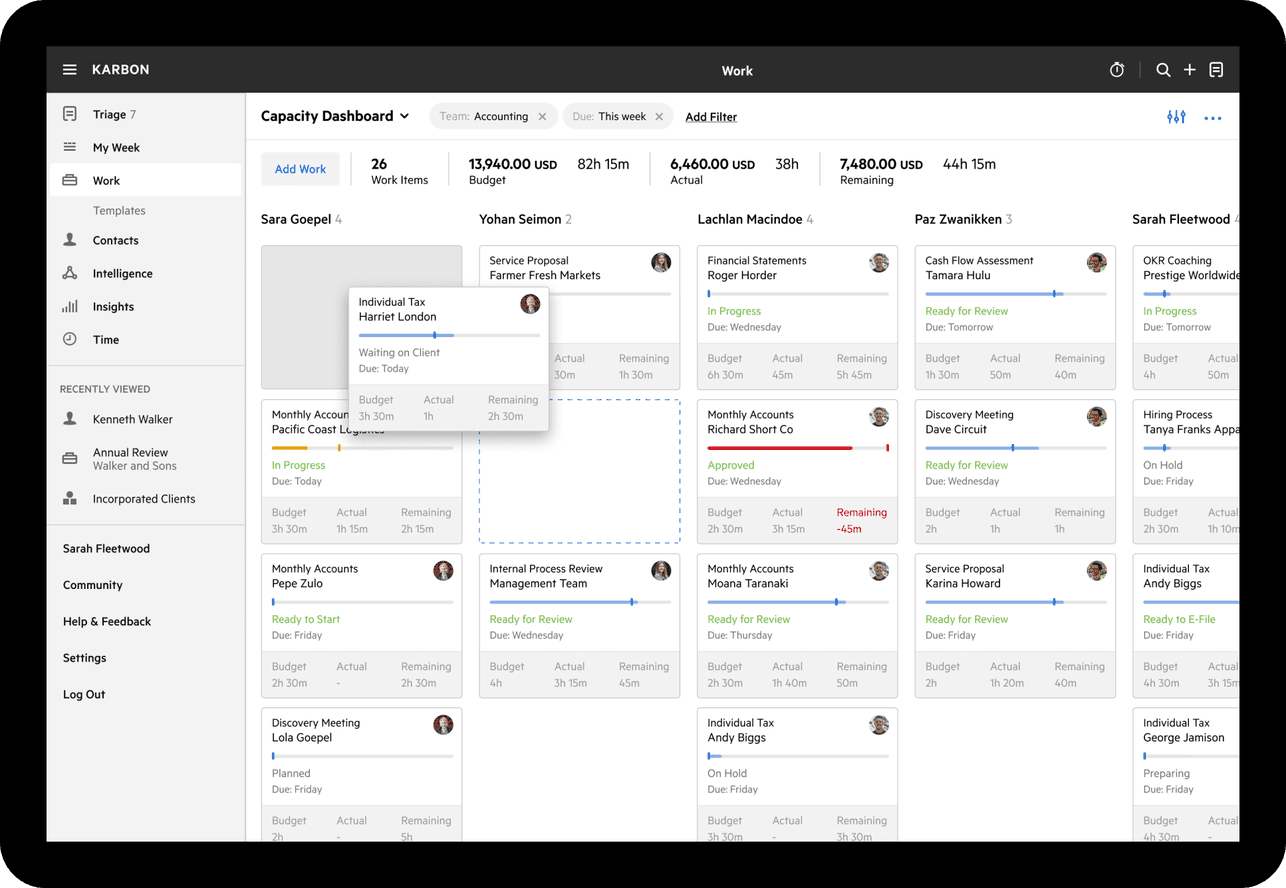 Karbon outperforms TaxDome
| | Karbon | TaxDome |
| --- | --- | --- |
| Fully integrated email inbox | | |
| Email comments and @mentions | | |
| @mentions and comments on tasks | | |
| Workflow automation | | |
| Workflow template library | | |
| Client portal | | |
| Mobile app | | |
| CRM and client management | | |
| Calendar integration | | |
| Document management | | |
| Invoicing and payments | | |
| Capacity planning | | |
| Budget vs. actual reporting | | |
| Built-in reporting & analytics | | |
| Customizable business insights dashboards | | |
| GPT-powered AI | | |
Why accounting firms choose Karbon over TaxDome
Purposefully built platform
Like TaxDome, Karbon is built for tax and accounting firms. But rather than duct-taping underdeveloped functionalities into an overwhelming system, Karbon's cloud-native practice management solution is woven with features that flow together smoothly and thoughtfully.
When you use Karbon to initiate, plan, and deliver work, your team and clients are equally delighted. You won't be wasting time doing work for work's sake—you'll get work done better, faster, and smarter.
Collaboration and visibility at its core
Communication is at the heart of every successful accounting firm. Karbon's fully embedded email, @mention and comments, and shared client communication timeline features allow teams to seamlessly collaborate with each other and clients in context.
You won't need to repeatedly chase down the same information or conversations. Knowledge silos and bottlenecks are removed. Everything you need to know is available at your fingertips.
Explore Karbon's collaboration features
Actionable insights
Your practice management platform is your accountancy practice's central source of client, team and profitability data.
With Karbon's advanced reporting and analytics tools, you can uncover critical and actionable business insights to make more informed decisions—from team capacity planning to firm-wide profitability, and much more.
Discover Karbon's reporting capabilities
Experience the Karbon effect.
These findings were obtained through Karbon's 2022 Firm Usage Survey.
On average, Karbon saves every employee 16.5 hours each week.
3.2 hours
Saved chasing clients
3.9 hours
Saved managing and completing work and tasks
3.2 hours
Saved reading, actioning and searching for email
4.1 hours
Saved with more efficient team collaboration
2.1 hours
Saved automating low-value admin tasks
18% growth
In firm-wide productivity
Book a demo or start a free trial.