Document Management
for
Accounting Firms
Connect your document management system and access client files easily
Store, manage, and track documents in a single source of truth.
Auto-create new folders
Karbon automatically creates folders in your DMS for repeating work items.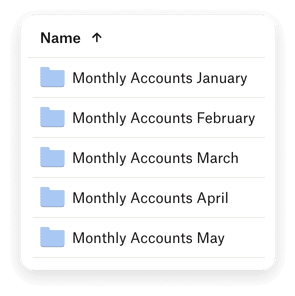 Save critical files where you need them
Back up any file attached to an email, task or internal note in seconds. Audit trails keep track of all collaborator actions.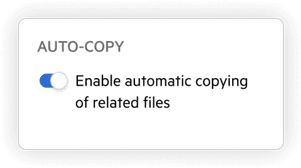 Collaborate with your team on client files
Reduce time-consuming data input by sharing links to DMS files and folders in your Karbon notes, comments and emails, so everyone in the firm can leverage the knowledge.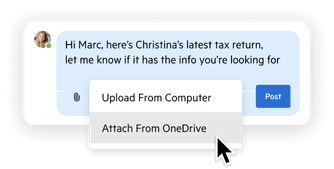 Frequently Asked Questions
Document Management is included in all pricing plans for Karbon, which are designed to meet the needs of all CPA firms and accounting practices. Refer to
Karbon pricing plans
.
In Karbon, navigate to Settings > Document Storage. Then
choose which document management system
you would like to use. Your options include Dropbox or OneDrive (including Sharepoint). Karbon can only connect to one DMS account at a time.
For most accounting firms, SharePoint is where the files are stored and OneDrive is the tool to access/share those files. Users can store files in OneDrive but the collaboration functionality in OneDrive is very basic compared to SharePoint.
Document Management in Karbon can help you and your accounting firm be more efficient with your time, which will save you money. With features like automatic copying and folder creation, you'll reduce manual input and have more transparency across the firm.
Information stored in Karbon is easily accessible in a single source of truth.
Request and collect client documents through a secure
Client Portal
for accounting firms.
Your maximum email attachment size can depend on the email service that you use but is not limited by your DMS integration. If you need to share a large file that is greater than 10MB, it is recommended that you include a file-share link in the email message, rather than attaching the file to the email.
Yes, one folder can be attached to multiple work items.
No. Karbon does not limit your document storage. Check with your preferred DMS provider for their limit sizes.
A user with Admin permissions is required to connect a DMS account to Karbon before all team members can access their folders and files. Once the DMS connection is set up, each team member can log in to use DMS via their profile page in Karbon.
Yes. After setting up the DMS in Karbon, you can then begin to connect individual folders to a work item.
Learn more
.
Yes. You set up a connected folder for recurring work in Karbon under the Repeating Settings page.
Book a demo or start a free trial.