Practice Management Software
for
Accounting Firms
Compare Karbon and Financial Cents
Karbon is cloud-native practice management software that unites your accounting firm with a single place to communicate, collaborate, and deliver exceptional client work.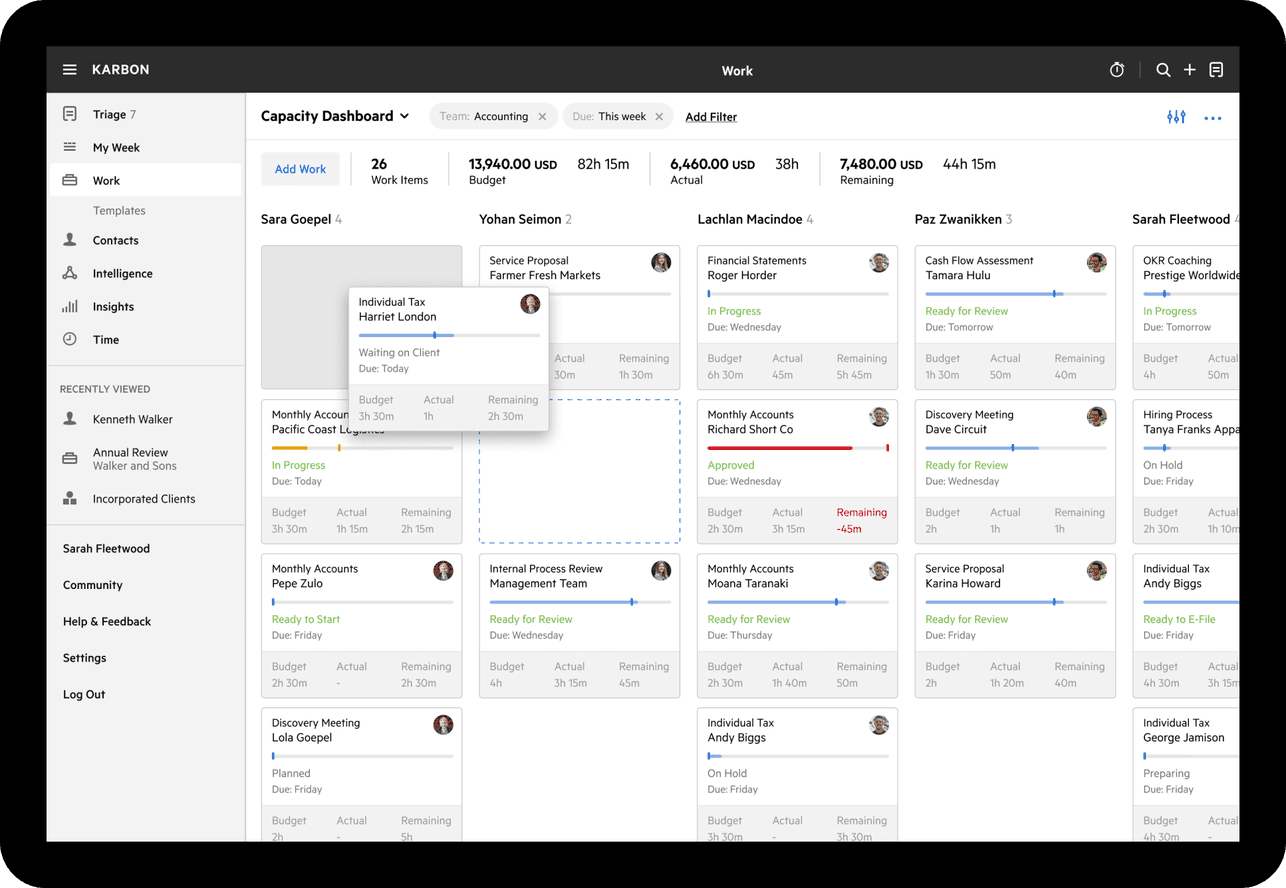 Karbon outperforms Financial Cents
| | Karbon | Financial Cents |
| --- | --- | --- |
| Email integration | | |
| Email comments and @mentions | | |
| Collaborate on tasks with @mentions and comments | | |
| Project management | | |
| Drag-and-drop Kanban board | | |
| Workflow automation | | |
| 250+ workflow templates | | |
| Client portal | | |
| CRM and client management | | |
| Calendar integration | | |
| Document management | | |
| Invoicing and payments | | |
| Budget vs. actual reporting | | |
| Customizable business insights dashboards | | |
| GPT-powered AI | | |
Why accounting firms choose Karbon over Financial Cents
A more mature platform
Karbon and Financial Cents are both practice management software for accounting firms, but they're not created equal when it comes to supporting your firm's growth and scalability. Launched in 2020, Financial Cents is a no-frills tool with basic functionality and adequate features, which makes it easy to adopt but harder to scale up.
Karbon has more in-depth functionality in all aspects—from integrated communication and collaboration workflows to drag-and-drop Kanban boards and advanced practice insights. Karbon is built to enable 360-degree collaboration and visibility. Firms large and small can get started with either platform, but Karbon is the one you won't outgrow any time soon.
Best-in-class customer support
Customers are Karbon's most valuable assets. That's why Karbon has built a best-in-class customer team that aims to delight you with a premium experience from onboarding and training, to responsive customer support and ongoing product enhancements.
DIYers can take advantage of Karbon's free group onboarding sessions that provide the essential knowledge to set you and your team up for success. For larger teams, full implementation services are available to save you time and stress. Firms of all sizes can also access Karbon Academy and Karbon Community to receive on-demand training and learn best practices from their peers.
Explore Karbon's Customer Service
Industry leading product innovations
Few practice management software platforms release new features and feature enhancements as frequently as Karbon. Every 2-4 weeks, Karbon releases updates and enhancements to its platform based on customer feedback, thanks to a powerful engineering team.
Karbon also hosts quarterly product roadmap webinars to keep customers up-to-date on the latest product developments. As one of the first accounting practice management platforms to integrate GPT-powered AI, Karbon is leading the way in innovation and continuous improvement.
See Karbon's latest feature releases
Experience the Karbon effect.
These findings were obtained through Karbon's 2022 Firm Usage Survey.
On average, Karbon saves every employee 16.5 hours each week.
3.2 hours
Saved chasing clients
3.9 hours
Saved managing and completing work and tasks
3.2 hours
Saved reading, actioning and searching for email
4.1 hours
Saved with more efficient team collaboration
2.1 hours
Saved automating low-value admin tasks
18% growth
In firm-wide productivity
Book a demo or start a free trial.