Client Management
for
Accounting Firms
Visibility across every client relationship
All client details and correspondence are at your fingertips. All the information required to deliver the service you promise.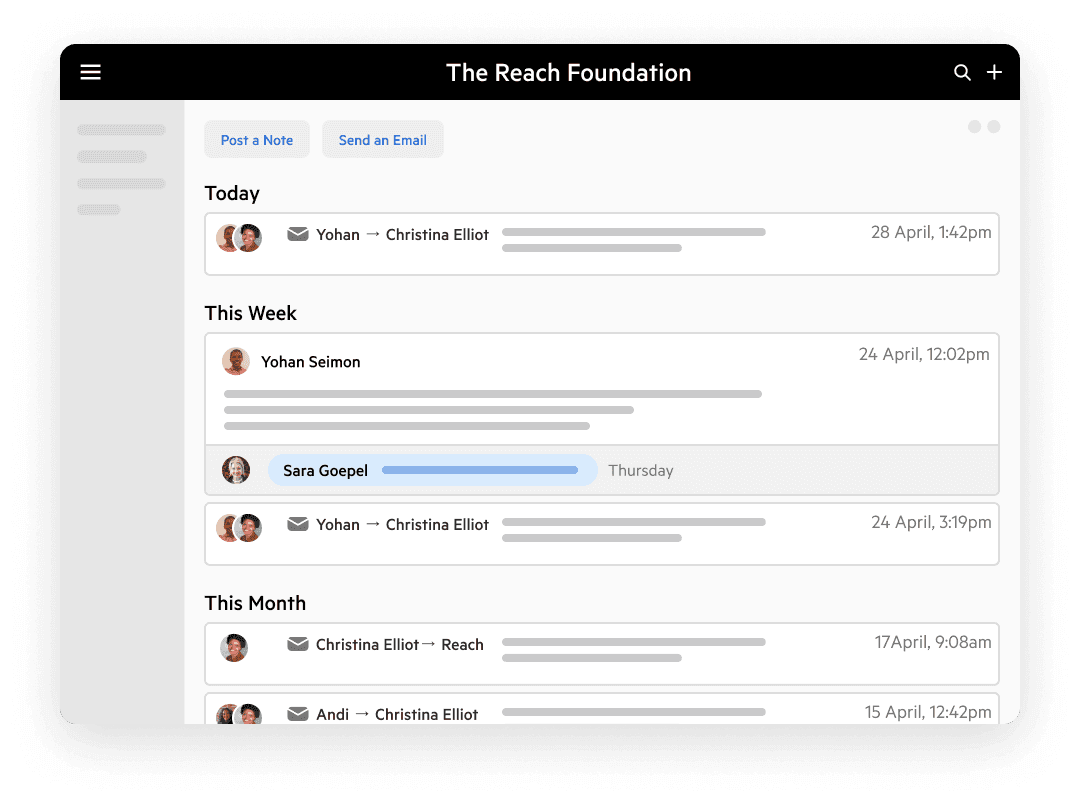 A record of all communication, with every client.
Every email, internal note and detail, for each client, is in one shared place for your team. Know who last contacted a client, what was said and when that was.

Everything is searchable, so when a client calls you will instantly know where things stand. Managing client relationships has never been easier.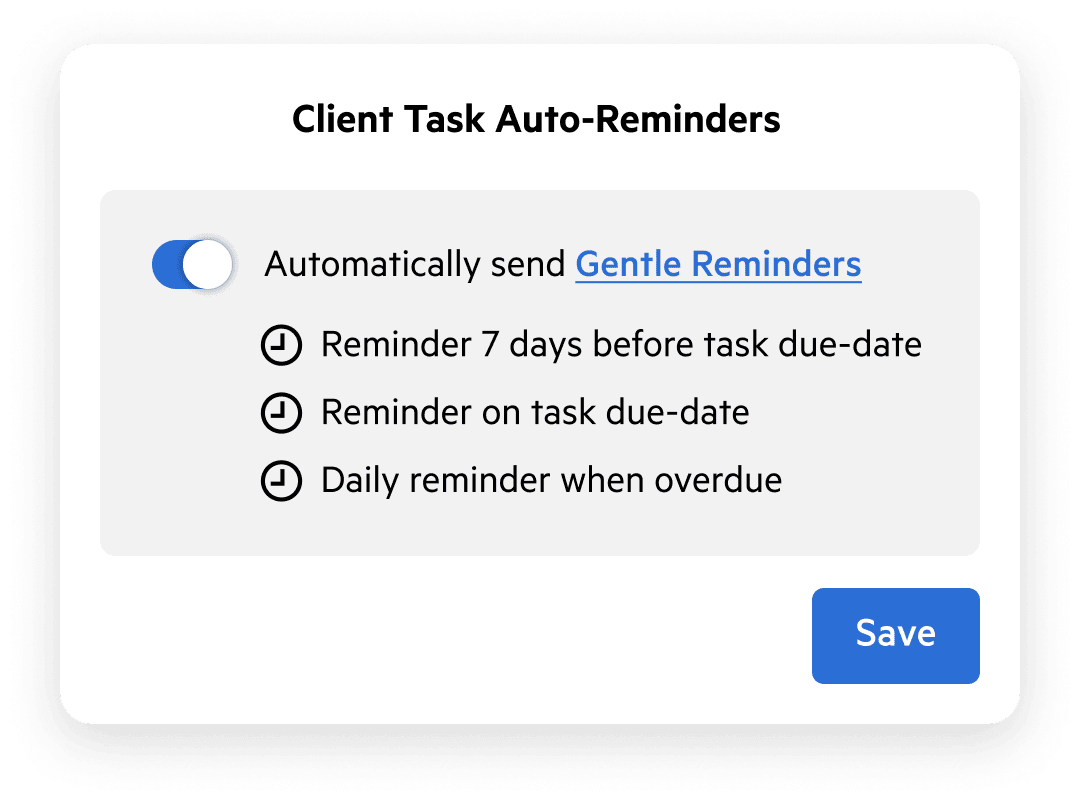 Automate client data-collection with Client Tasks and Auto-Reminders.
Let Karbon do all of the chasing for you by automating client requests and reminders. Clients become part of your workflow, so they know exactly what they need to action and you know what you are still waiting on.

The moment a client sends documents and comments, you are notified right where you need them.
Simplify and scale your client onboarding.
Begin every client relationship painlessly. Standardizing your onboarding process with templates allows you to take on more clients and still give each one the red carpet treatment.

Integrate Karbon with other systems to trigger workflows the moment a new proposal is accepted, creating seamless efficiency for everyone.
Client Management Features
Client Portal
Collaborate with clients in one streamlined workflow with tasks and document sharing.
More detail
Auto-remindersStop chasing clients for missing information. Karbon sends task reminders for you.
Kanban BoardView and optimize all of the jobs going on across your team.
Activity TimelinesShared history of emails, notes, tasks and activity relating to any job or client.
Integrated EmailEvery email between your client and anyone on your team, in one single place.
Client GroupsManage people and organizations that are related by ownership or financial structure.
Shared ContactsWork together on clients with all contact details, work and communication in one place.
Third-party IntegrationsShare data between Karbon and other systems to keep everything up-to-date.
Document StorageFiles and documents automatically stored and organized against clients and jobs.
Contact TypesCustomizable database categories for clients, prospects, suppliers or anyone else.
InsightsEasy-to-read reports detailing critical output and efficiency metrics.
Experience the Karbon effect.
These findings were obtained through Karbon's 2022 Firm Usage Survey.
On average, Karbon saves every employee 16.5 hours each week.
3.2 hours
Saved chasing clients
3.9 hours
Saved managing and completing work and tasks
3.2 hours
Saved reading, actioning and searching for email
4.1 hours
Saved with more efficient team collaboration
2.1 hours
Saved automating low-value admin tasks
18% growth
In firm-wide productivity
Client management in Karbon firms
Karbon has made our clients more prompt and changed our relationship with them. This has saved us hours and hours of time.
Billy Lacey
Ipsum Advisors
Karbon's automatic Client Tasks kick-start my projects without me needing to think about it. This means that when I'm ready to start a job, I have everything I need.
Sabrina Johnson
Essina Business Financial Services
Karbon gives me peace of mind – I love that I can schedule Client Tasks so I don't stay up at night thinking of emails I need to send clients.
Corina Hardaker
Starbyder Bookkeeping Services
Book a demo or start a free trial.
Explore other benefits of Karbon
Team, clients, systems, and data together in one place. Remote or in the office – you're all together, because Karbon firms are connected firms.