Email Management
for
Accounting Firms
Email embedded in your workflow
Email in Karbon is connected to your team and everything that is being worked on, not locked away in individual inboxes.
All communication between staff and clients is consolidated in automatic audit trails.
Every email, internal note and detail, for each client, is in one shared place for your team. Know who last contacted a client, what was said and when that was.

When a client calls you can instantly see where things stand. Managing client relationships has never been easier.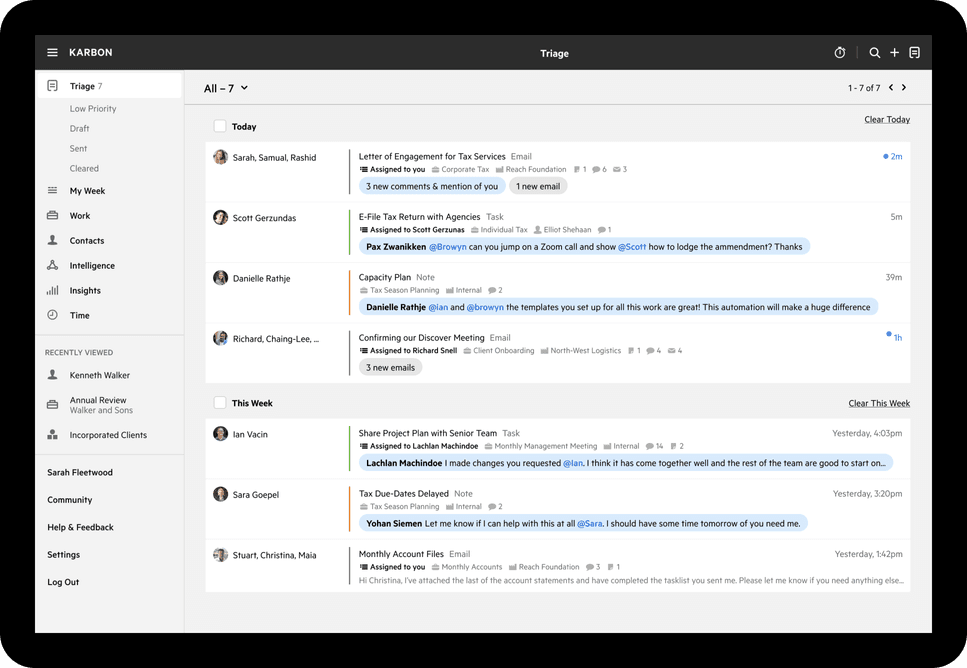 Make comments on emails to collaborate in context, out of your client's view.
Discuss work with your team directly on the emails, notes and tasks at hand.

No more out-of-context FYIs or meaningless forwarded emails, add comments where they are relevant to carry-out internal discussions. Team communication happens in the same place as work, tasks and planning.
Emails are assigned to whoever is best for the job, not stuck in individual inboxes.
Transform emails into personal tasks or delegate them to others in the team.

Tasks and sub-tasks can be given their own assignee, status and due date—ensuring that everything is prioritised effectively and nothing slips through the cracks.
Email Management Features
Email CommentsAdd notes on emails to discuss internally, right where it makes sense.
Email ActionsEmails assigned to whoever is best for the job, not stuck in individual inboxes.
InsightsEasy-to-read reports detailing critical output and efficiency metrics.
Integrated EmailEvery email between your client and anyone on your team, in one single place.
TriageQuickly process emails, notifications of tasks, notes from colleagues, and client activity.
Activity TimelinesShared history of emails, notes, tasks and activity relating to any job or client.
Global SearchEverything in Karbon is searchable. Find anything across your organisation in seconds.
Document StorageFiles and documents automatically stored and organised against clients and jobs.
Mobile AppKarbon for iPhone and Android allows you to triage your day while on the go.
Experience the Karbon effect.
These findings were obtained through Karbon's 2022 Firm Usage Survey.
On average, Karbon saves every employee 16.5 hours each week.
3.2 hours
Saved chasing clients
3.9 hours
Saved managing and completing work and tasks
3.2 hours
Saved reading, actioning and searching for email
4.1 hours
Saved with more efficient team collaboration
2.1 hours
Saved automating low-value admin tasks
18% growth
In firm-wide productivity
Email management in Karbon firms
I couldn't live without Triage – the way it helps me manage my emails and tasks is invaluable.
Dan Dang
Jannar Dang & Associates
This software is a game-changer. It is simple-to-use, streamlined and intuitive. Karbon has improved our productivity and visibility, and I'm no longer stuck in my inbox for hours.
Sandra Magann
SeaChange Accounting Solutions
My inbox used to be a dumpster fire. But now that I've implemented Karbon and started using Triage, I'm able to go through my emails quickly and make sure that all my client information is organised to the right client and the right piece of work.
Bette Hochberger
Bette Hochberger
Book a demo or start a free trial.
Explore other benefits of Karbon
Team, clients, systems, and data together in one place. Remote or in the office – you're all together, because Karbon firms are connected firms.