Business Analytics
for
Accounting Firms
Insights to guide critical firm decisions and improve efficiency
Make better-informed decisions. Purpose-built reports detail your team's critical output, efficiency and client behaviour metrics.
Track and maximise staff utilisation for a more efficient, productive team.
Easy-to-read reports built specifically for the modern workplace make it simple to track performance. Keep a tight handle on who is completing work, job efficiency, and overall effectiveness.

As work progresses, your insights are updated automatically, equipping you with accurate information to make better-informed decisions.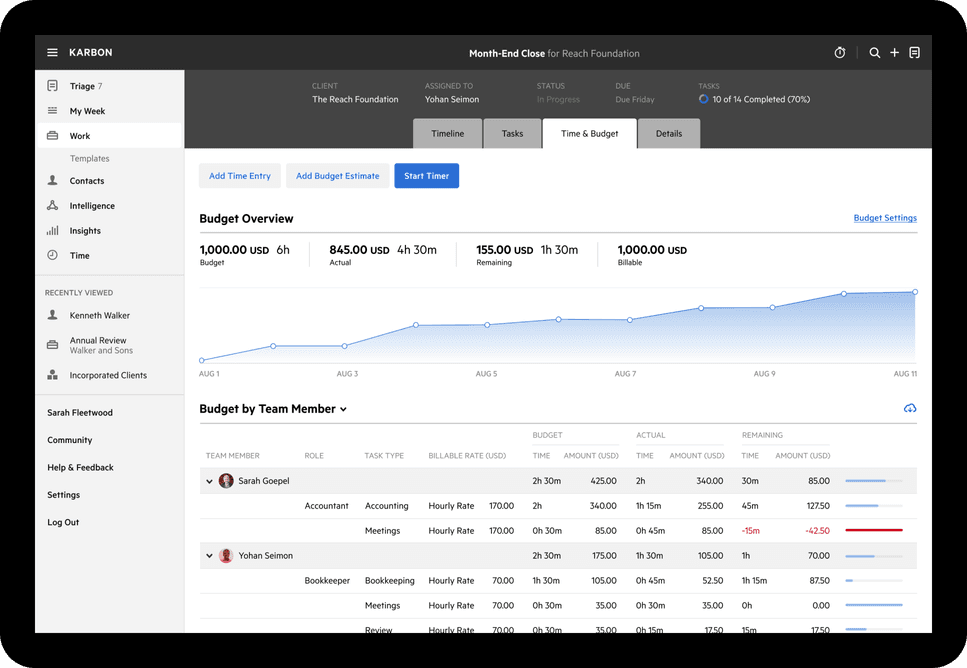 See where you can increase service fees and make your firm more profitable.
Enhance your business and increase revenue with insights that drive actions.

Estimate and track time to understand jobs that are on-budget, improve staff utilisation, allocate resources, and uncover performance insights to transform your firm.
Proactively manage client satisfaction.
Managing client relationships is easy with everything in one place. Their contact details, jobs, tasks, documents and communication with all team members is available to access anywhere.

Understand which clients consume your team's time most, which clients have outstanding work and whether your team is focussing enough on those most valuable.
Business Analytics Features
InsightsEasy-to-read reports detailing critical output and efficiency metrics.
Client AnalysisUnderstand the clients consuming time most and who are your most valuable.
Kanban BoardView and optimise all of the jobs going on across your team.
Report ExportsDownload client or work data as spreadsheets to perform your own analysis.
LeaderboardsKeep track of your most effective team members and clients.
Work ListsCustomisable views of your most important jobs, with the information that matters most.
Time & BudgetsEstimate and track time to understand profitability and allocate resources.
Activity TimelinesShared history of emails, notes, tasks and activity relating to any job or client.
Experience the Karbon effect.
These findings were obtained through Karbon's 2022 Firm Usage Survey.
On average, Karbon saves every employee 16.5 hours each week.
3.2 hours
Saved chasing clients
3.9 hours
Saved managing and completing work and tasks
3.2 hours
Saved reading, actioning and searching for email
4.1 hours
Saved with more efficient team collaboration
2.1 hours
Saved automating low-value admin tasks
18% growth
In firm-wide productivity
Business analytics in Karbon firms
The best bit about Karbon is that it shows insights and actions that we can instigate to be more efficient or to provide a better client service.
Graeme Tennick
Graeme Tennick & Co
If I have an issue, I can immediately go into Karbon. I have full disclosure and visibility of where the problem started, how it evolved and what the best-case solution would be.
Tabatha Morrison
Tabworks
Before Karbon, our data was all over the place and a mess. I had no idea who we were onboarding, let alone how each client was going. Now, there is accountability that we never had before and I can see how we are tracking.
Adam Slack
Two Roads
Book a demo or start a free trial.
Explore other benefits of Karbon
Team, clients, systems, and data together in one place. Remote or in the office – you're all together, because Karbon firms are connected firms.