Workflow Automation
for
Accounting Firms
Focus on the high-value by automating the low-value
Automate common, time-consuming tasks to allow your team to provide a higher quality service to clients, helping their businesses succeed.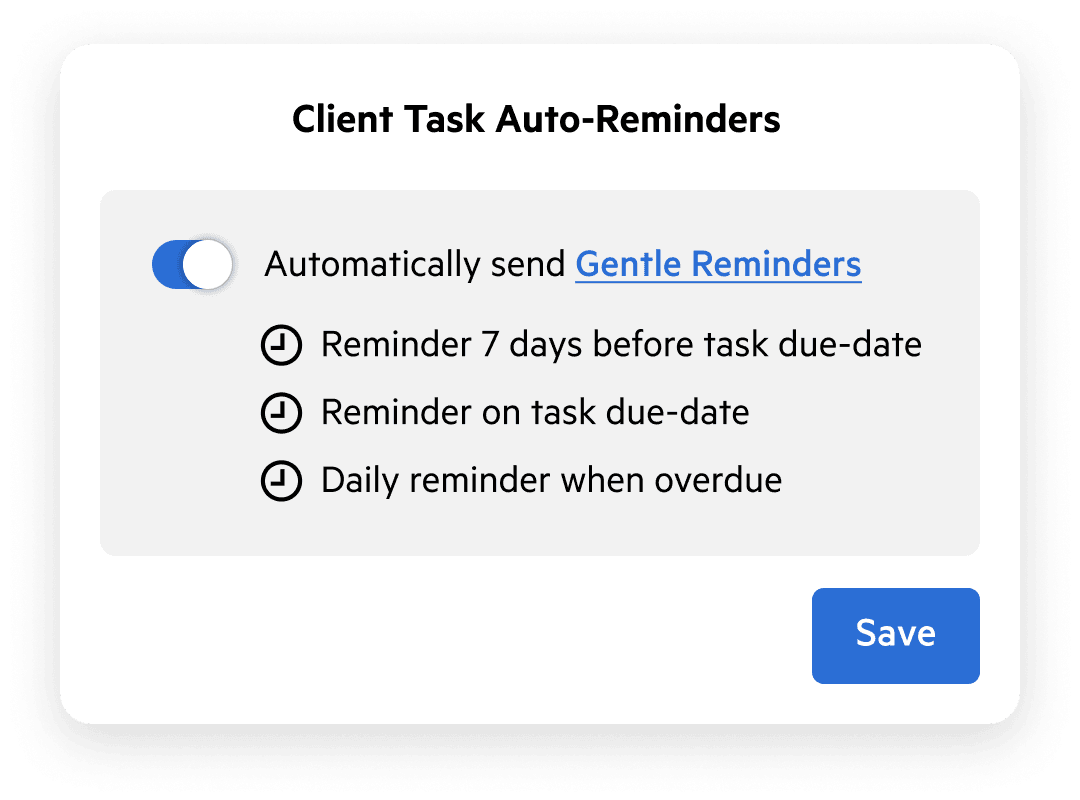 Automate client data collection and file storage.
Let Karbon do the chasing for you by automating client requests and reminders. Clients become part of your workflow, so they know exactly what they need to action, and you know what you are still waiting on.

Attachments are automatically stored and filed against the corresponding jobs the moment a client sends them. You will never lose documents sent via email again.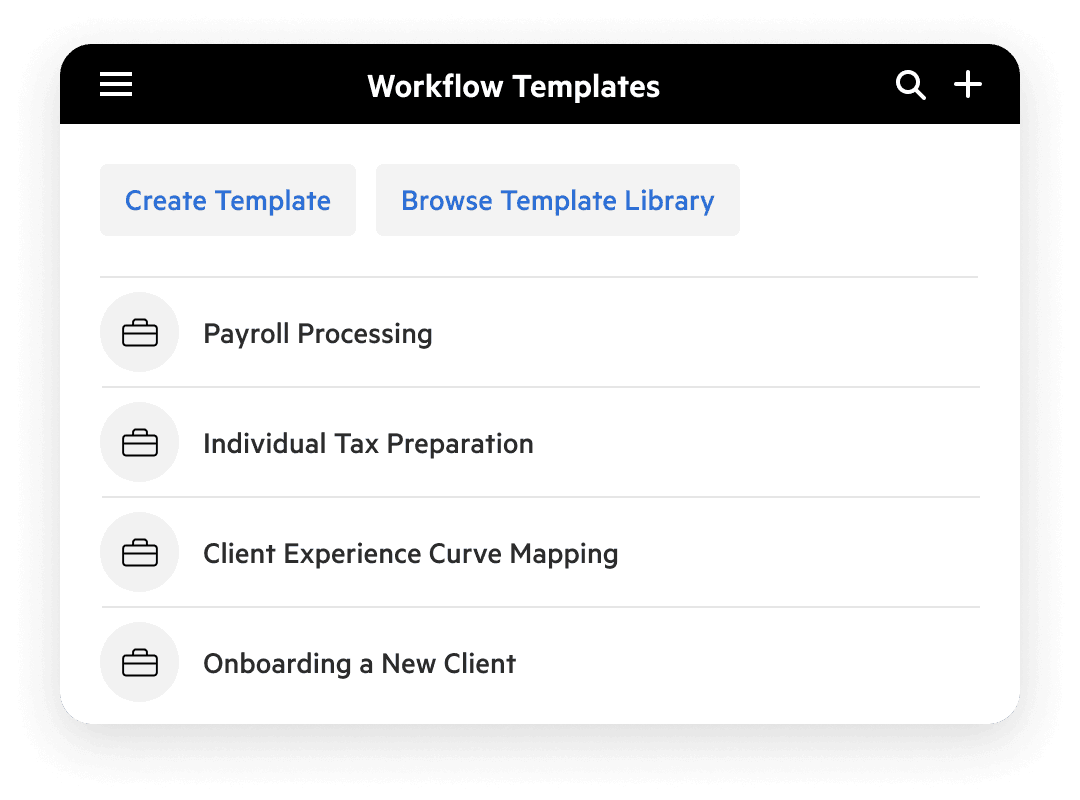 Templatise common processes to standardise recurring work.
Standardise your work with Karbon templates, ensuring processes don't break and quality is maintained as your team evolves and grows.

Customisable statuses, checklists, job roles and work types allow you to document workflows to suit your business, giving your staff the tools to set up detailed work items in seconds.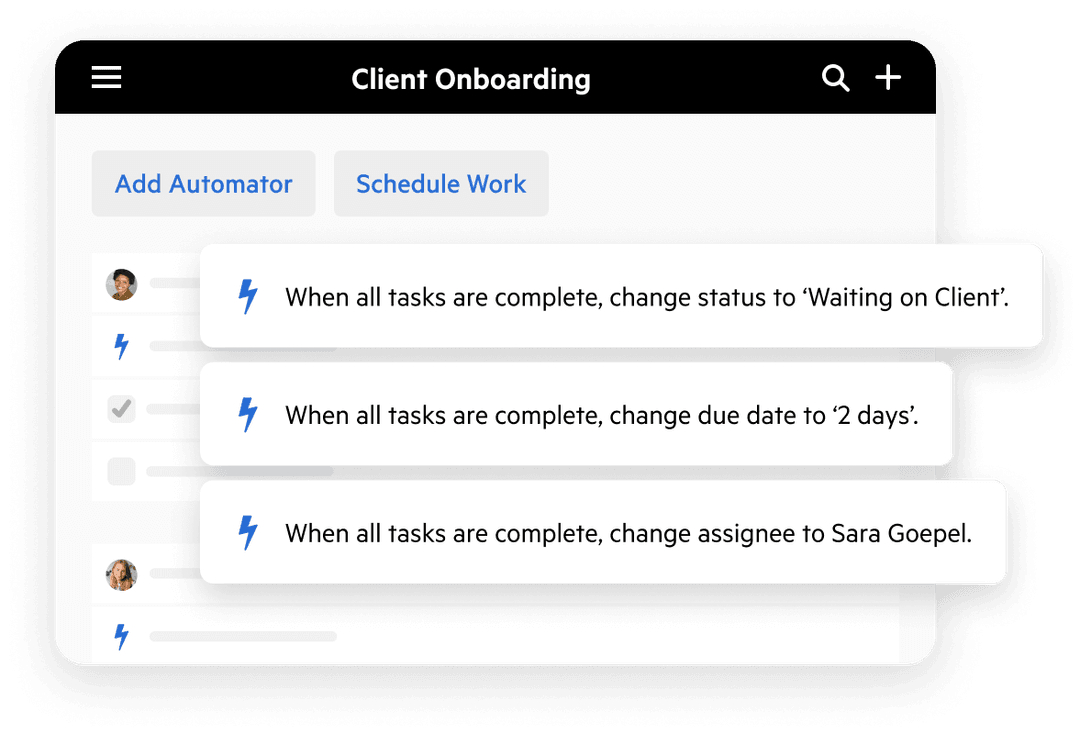 Automate updates to status, due date and assignee as milestones are achieved.
Don't waste time on low-value admin. Use task-dependent automators to trigger workflow updates, provide an accurate reflection of progress, and keep the team on the same page.

With Karbon, everyone knows what they need to work on today and what's coming up next.
Workflow Automation Features
Work TemplatesStandardise your common processes and workflows in customisable templates.
Kanban BoardView and optimise all of the jobs going on across your team.
Work SchedulerSet recurring work to repeat on automatic schedules.
AutomatorsCreate logical relationships and dependencies between tasks or activities.
Client Portal
Collaborate with clients in one streamlined workflow with tasks and document sharing.
More detail
Auto-remindersStop chasing clients for missing information. Karbon sends task reminders for you.
Third-party IntegrationsShare data between Karbon and other systems to keep everything up-to-date.
Email ActionsEmails assigned to whoever is best for the job, not stuck in individual inboxes.
My WeekOrganise your work, tasks and email into a manageable action plan.
InsightsEasy-to-read reports detailing critical output and efficiency metrics.
Time & BudgetsEstimate and track time to understand profitability and allocate resources.
Experience the Karbon effect.
These findings were obtained through Karbon's 2022 Firm Usage Survey.
On average, Karbon saves every employee 16.5 hours each week.
3.2 hours
Saved chasing clients
3.9 hours
Saved managing and completing work and tasks
3.2 hours
Saved reading, actioning and searching for email
4.1 hours
Saved with more efficient team collaboration
2.1 hours
Saved automating low-value admin tasks
18% growth
In firm-wide productivity
Workflow automation in Karbon firms
Karbon gives me peace of mind—I love that I can schedule Client Tasks so I don't stay up at night thinking of emails I need to send clients.
Corina Hardaker
Starbyder Bookkeeping Services
Karbon makes it really easy to create and improve templates for all our common processes, which has really improved our efficiency.
Jeff Jobson
Catalyst
Karbon allows total transparency across the entire practice, allowing us to maximise efficiencies and streamline processes. We couldn't work without it!
Natalie Lennon
Two Sides Accounting
Book a demo or start a free trial.
Explore other benefits of Karbon
Team, clients, systems, and data together in one place. Remote or in the office—you're all together, because Karbon firms are connected firms.